CLIENT: San Mateo County Environmental Services Agency
PARTNERS: California Native Plant Society, Watershed Project

In 2002, the California Native Plant Society's Heart of the Mountain volunteer stewardship project began restoring native plant communities in the Colma Creek headwaters of San Bruno Mountain State & County Park. Volunteer stewards controlled invasive plants and propagated and installed native plantings in a small glade in the headwaters area. In 2004, the County received Proposition 12 funds to continue efforts initiated by the CA Native Plant Society and more fully restore the headwaters area.
Removing exotic invasives will raise the water table at Colma Creek allowing perennial year round steam flow in the headwaters area to further increase the habitat value of the area.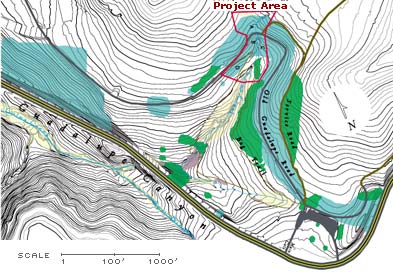 In 2005, Shelterbelt was hired by San Mateo County to prepare a 3-year restoration plan for the project and facilitate public meetings for the project. Working closely with the Heart of the Mountain and San Mateo County planning staff, Shelterbelt prepared an ambitious plan to remove over 150 Eucalyptus trees and associated invasive understory plants, propagate and revegetate the area with native riparian plant species, protect the stream channel from erosion during the restoration project term and sustainably dispose of a vast quantity of vegetative debris. The removal of the Eucalyptus trees growing in and around the stream channel would provide enough light and space to establish native riparian plants like willow (Salix sp.) and dogwood (Cornus sp.) which would provide valuable habitat for native wildlife. The removal of the trees would raise the water table to allow perennial year round steam flow in the headwaters area further increasing the habitat value of the area. The surrounding project area would be revegetated with native coastal scrub and grassland species.