A Brief History
Shelterbelt Builders was founded in 1978 in Berkeley, CA as a general building and landscaping company completing over 600 commercial and residential projects during the subsequent 15 years. The original company enthusiastically embraced the emerging green building technologies of the 70's and implemented many passive and active solar, straw bale and off-the-grid construction projects. After an exhaustive effort rebuilding residential homes following the 1991 Oakland Hills firestorm, management realized there was no locally available organization specializing in the management, stewardship and restoration of native landscapes in the San Francisco Bay Area. At that point, Shelterbelt abandoned traditional construction and restructured itself into a specialty contracting company dedicated exclusively to restoration of native landscapes and open land management. We are now based in San Francisco and are one of the leading companies in California devoted to land stewardship and restoration.

Commitment to Green and Sustainable Business Practices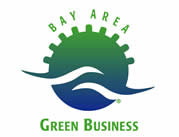 Shelterbelt's field operations and Berkeley field office have received Green Business certification through the ABAG Green Business Program. By the very nature of our work - the restoration of native plants and natural lands - we are committed to conservation and responsible land management. But beyond our field work, we are committed to green business practices. For our commute to the office or field sites, we encourage and incentivize carpooling, biking, and public transportation to the maximum extent possible. In the office, we maintain low-energy use operations, compost food scraps, use only 100% recycled papers and stationary, recycle and reuse materials obsessively, and installed a drought-tolerant native plant garden that requires absolutely no irrigation. On project sites, we process vegetative waste onsite to minimize additions to the local landfill, utilize recycled or custom processed organic mulches and composts, implement many alternatives to herbicides, and use FSC-certified or salvaged wood for building projects.

Shelterbelt Builders Inc. is a licensed California contractor #620615 B-C27